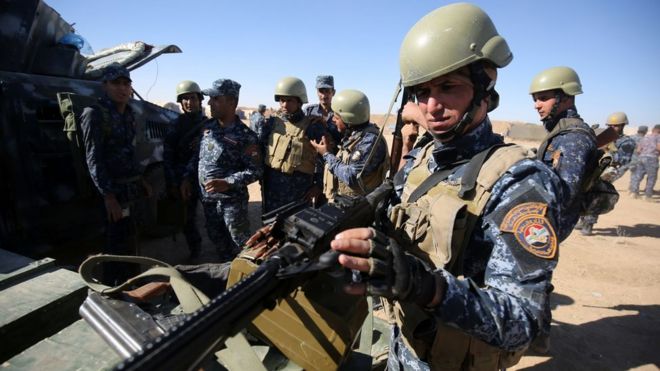 AFP
BBC - The long-awaited assault from Kurdish Peshmerga, Iraqi government and allied forces is backed by the US-led coalition fighting IS in Iraq.A military operation to recapture the Iraqi city of Mosul from so-called Islamic State (IS) has begun, Prime Minister Haider al-Abadi says.
Mosul, Iraqs second largest city, has been under IS control since June 2014.
The UN has warned that the humanitarian impact could be "enormous", and affect up to 1.2 million people.
Mosul is the groups last major stronghold in Iraq. The loss of the city, officials say, would mark the effective defeat of IS in the country.
Sporadic artillery was heard in areas around the city after the announcement, AP news agency reported.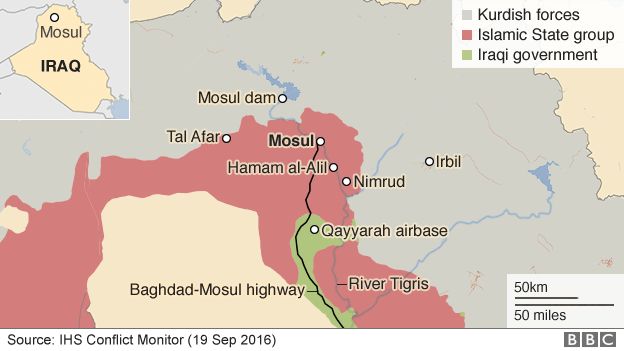 In an address broadcast on state television in the early hours of Monday, Mr Abadi said: "The hour of victory has come, the operation to liberate Mosul has started."
"Today I declare the start of the heroic operations to liberate you from Daesh," he said, using another name for IS.
"God willing we will meet in Mosul to celebrate the liberation and your salvation from Isis (IS) so we can live together once again, all religions united and together we shall defeat Daesh to rebuild this dear city of Mosul."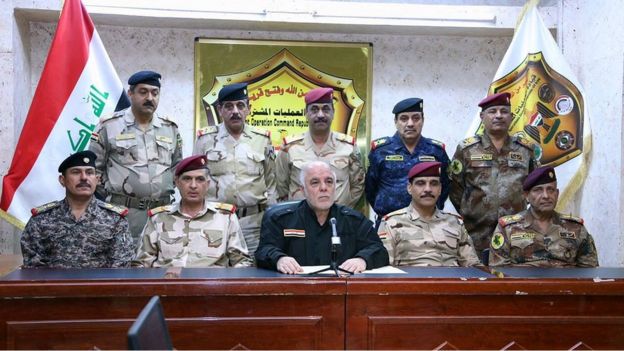 IRAQI PM/AP
Surrounded by senior Iraqi officers, he vowed that only government forces would enter Mosul, a Sunni-majority city.
This, analysts said, was an attempt to counter fears that the operation could turn into a sectarian conflict.
It was from Mosul that IS leader Abu Bakr al-Baghdadi declared a caliphate - a state governed in accordance with Islamic law - in territory controlled by the group in Iraq and Syria.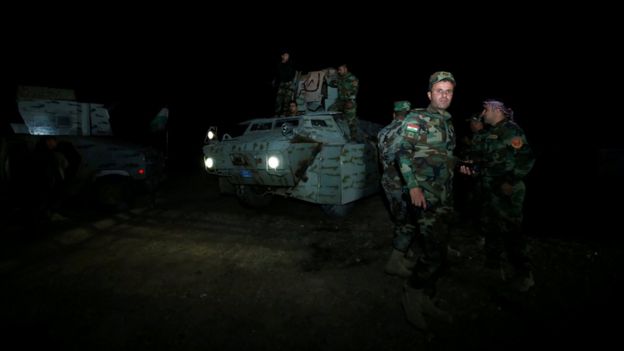 REUTERS
An operation to retake the city, capital of the northern Nineveh governorate, has been planned for months.
Thousands of pro-government forces have used as a platform an air base in the strategic town of Qayyarah, about 60km (37 miles) south of Mosul, which was recaptured in August.
Brig Gen Haider Fadhil told AP news agency that more than 25,000 troops would take part in the offensive.
The US envoy to the coalition against IS, Brett McGurk, said on Twitter: "We are proud to stand with you in this historic operation."