Syria, London - A British human rights activist and filmmaker has been killed in Syria by Daesh terrorists, has been reported.
Mehmet Aksoy, 32, from London, who studied filmmaking at Goldsmiths, University of London, travelled from the UK to Syria in June.
He joined the Kurdish militant group, the Kurdish Peoples Protection Units (YPG), and began documenting its battles against IS.
The Foreign Office has been contacted for comment.
Aladdin Sinayic a close friend of Mr Aksoys from London, told the BBC: "Mehmet never fought, the plan was never to fight.
"He told me there are better ways. He wanted to tell the stories of the fighters there, he had so much respect for them, and Mehmet was loved by everybody."
Mr Aksoy, who was of Kurdish descent, had spent the past two months filming the battle for Raqqa, publishing his work on social media and on international news outlets.
Operating from within Kurdish units he also became a key contact for western journalists like myself covering the YPG and the activities of fighters on the ground.
"This was his dream", Mr Sinayic said. " I knew whatever I said would never stop him going. He wanted to tell the stories of the Syrian people and the fighters.
"Whenever I was saying to take care of himself, he said, Dont worry. He wanted to make their struggle there visible to the world."
Mr Aksoy was in a compound outside Raqqa when IS fighters attacked on Tuesday morning, the BBC understands.
IS fighters drove up to the compound in two cars and shot five YPG soldiers who were guarding the base at the checkpoint..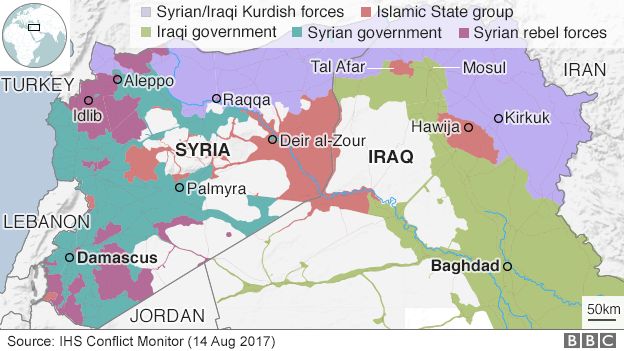 Around 300 of Mr Aksoys friends and family gathered at the Kurdish Community Centre in North London in a late night vigil to pay tribute on Tuesday evening.
Mark Campbell, a close friend and member of the Kurdistan Solidarity Campaign, said: "I was speaking to Mehmet almost every night while he was in Syria. One of the last things he was so excited about were the local elections that were taking place in Northern Syria."
Mr Aksoys parents are originally from Turkey and run an off-licence in Luton. They were at the vigil in Harringay, where there were emotional scenes as people paid tribute.
Friends said Mr Aksoy did not tell his parents before travelling to Syria.
"He knew they were going to be upset", friend Can Atas said, "but he informed them once he was inside the country".
He claimed that Mr Aksoys mother always knew of his deep desire to go to Syria.
He added: "He was always very close to his mother and always a fun character to be around, but there were no bad sides to Mehmet, he would be there for his friends any time.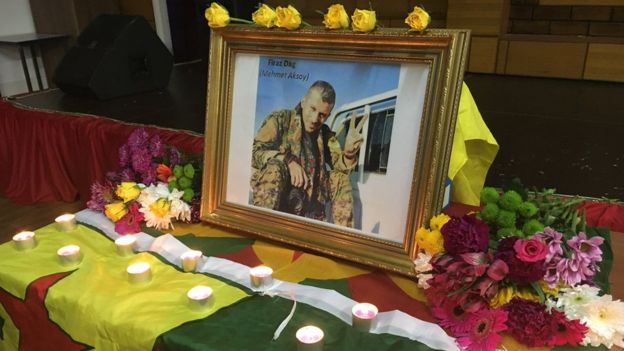 Image captionMehmet Aksoy was known by his nom de guerre "Firaz Dag" during his time in Syria
Mehmet Aksoy was known by his nom de guerre "Firaz Dag" during his time in Syria with the YPG.
His uncle was killed in the 1990s while a guerrilla fighter with the PKK, a separatist group who were then fighting for Kurdish independence in Turkey.
"That was always a big influence. Firaz was the name of his uncle", another friend explained at the gathering.
Mehmet Aksoy is now thought to be the fifth British citizen to have been killed while as a volunteer with the Kurdish-led YPG in Syria.
The Foreign and Commonwealth Office said: "The UK has advised for some time against all travel to Syria.
"As all UK consular services are suspended in Syria, it is extremely difficult to confirm the whereabouts and status of British nationals in the country."
Report by BBC journalist Emma Vardy
The headline as well as Some content in the report has been modified by MACS editors.