CIA director Gina Haspel has heard audio recordings that are believed to capture the killing of Saudi journalist Jamal Khashoggi, media reports say.
BBC - They say Ms Haspel was allowed to listen to the audio during a visit to Turkey earlier this week.
Khashoggi, a US-based critic of the Saudi government, was killed during a visit to its consulate in Istanbul.
Saudi Arabia has blamed the killing on "rogue agents". The case has strained relations with the US and other allies.
Soon after the murder on 2 October, Turkish media quoted officials as saying they had audio recordings of Khashoggis interrogation and death, but gave no details about the contents or how the audio had been obtained.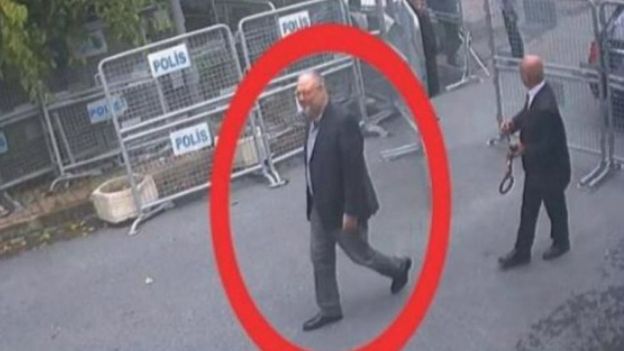 Image copyrightREUTERSImage captionKhashoggi was last seen alive entering the Saudi consulate nearly three weeks ago
Ms Haspel travelled to Turkey on Monday. On Wednesday Turkeys Sabah newspaper said she had listened to the recordings.
Now, sources cited by the Washington Post and Reuters news agency have backed up the reports.
A person "familiar with the audio" told the Washington post that it was "compelling" and could lead the US to hold Saudi Arabia accountable.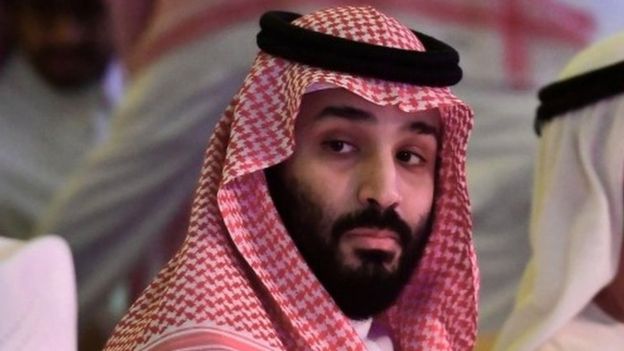 Image copyrightAFPImage captionSaudi Arabia has denied Crown Prince Mohammed bin Salman had a role in the killing
On Wednesday Saudi Crown Prince Mohammed bin Salman, who is regarded as the countrys de facto ruler, vowed to punish those responsible.
However, media reports have quoted Turkish security sources as saying the operation was run by a top aide to Prince Mohammed.
The crown prince was speaking at a business forum in Riyadh, dubbed "Davos in the Desert", which has been boycotted by a number of political and corporate leaders.

Whats the latest with the investigation?
There is still no sign of the body.
The latest focus appears to be on a well in the garden of the Saudi consulate building.
As with much of the investigation there have been conflicting reports. The Anadolu agency initially reported the Saudis had denied permission for it to be searched, only for broadcaster NTV to say later that permission had been given.
On Tuesday there were similar conflicting reports over whether Khashoggis belongings had been found in suitcases in a Saudi diplomatic car.
This week Turkish President Erdogan said Turkey had strong evidence the journalist was killed in a premeditated and "savage" murder and has called for the suspects to be tried in Istanbul.
What is Donald Trumps line?
On Tuesday the US president voiced his strongest criticism of the Saudi government to date and suggested the crown prince must have known what was going on.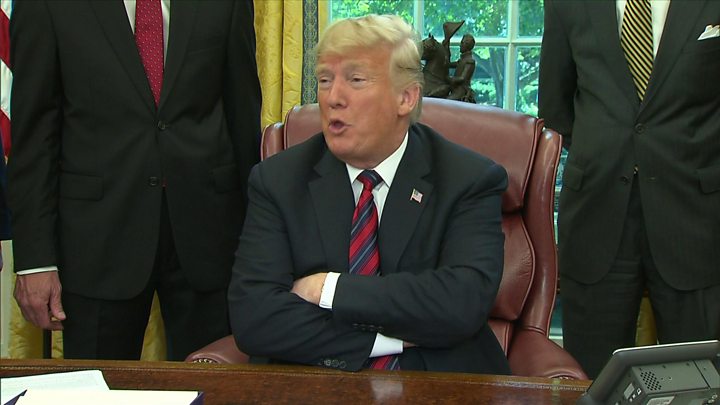 Media captionThe US President criticises Saudi Arabias handling of Jamal Khashoggis death
He told the Wall Street Journal: "Well, the prince [Mohammed bin Salman] is running things over there more so at this stage. Hes running things and so if anybody were going to be, it would be him."
Earlier he said: "They had a very bad original concept, it was carried out poorly and the cover-up was the worst in the history of cover-ups."
The US will revoked the visas of those believed responsible for Khashoggis killing - Saudi Arabia says 18 Saudi nationals have been detained.
How has the Saudi story changed?
First, Saudi Arabia said Khashoggi had left the building alive, then that he had been killed in a "fist-fight" inside the consulate.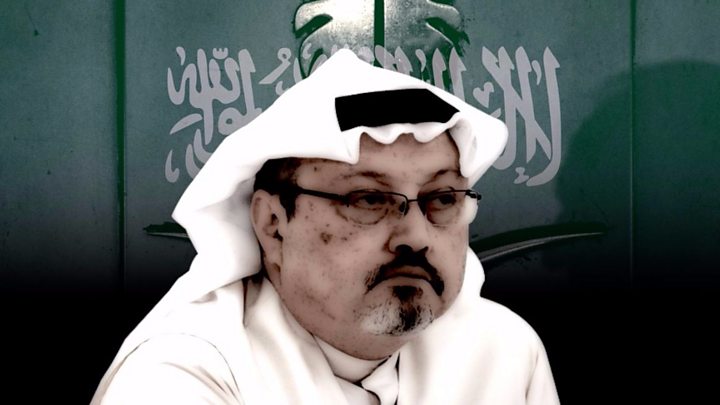 Media captionJamal Khashoggi and how Saudi critics keep going missing
It finally said that Khashoggi had been murdered in a "rogue operation" that the leadership had not been aware of.
An unnamed Saudi official told Reuters news agency on Sunday that Khashoggi had died in a chokehold after resisting attempts to return him to Saudi Arabia.
His body was then rolled in a rug and given to a local "co-operator" to dispose of, the official said.